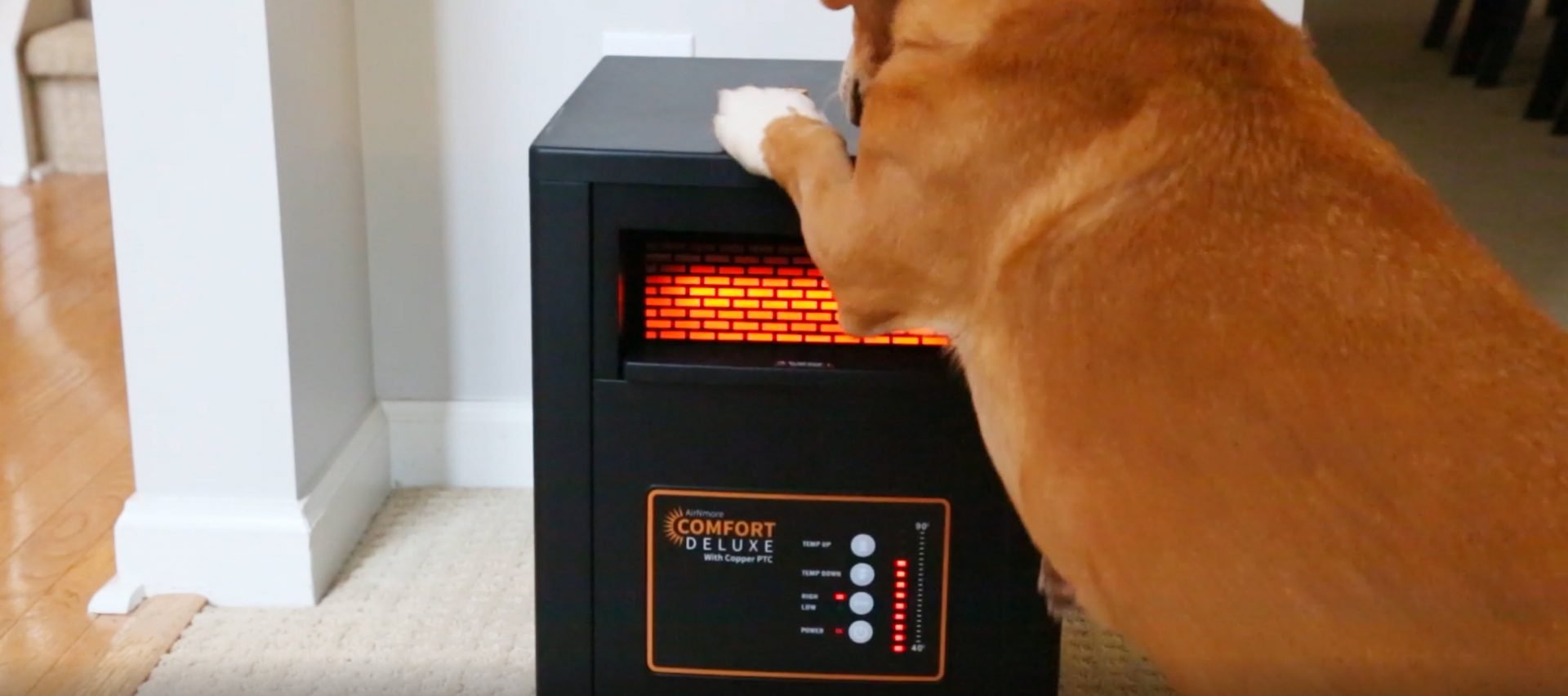 Are Infrared Heaters Safe?
When choosing a supplemental heating system for your home, taking a closer look at what specific heating options offer in regard to safety, should be at the top of your list. Some portable heaters are known to be unsafe, but others are not. Some unsafe results are also due to user error, and not following basic safety rules, rather than the product. You want to be sure to pick a model that is the not only the safest, but also the most efficient, like infrared heaters. As you begin to research, one of your first questions should be are infrared heaters safe?
Infrared heat works by transferring energy to heat to surrounding people and objects, rather than heating the air. This makes it one of the safest portable option available on the market. For example, when comparing the safety of a conventional heater's temperature to that of an infrared heater, the internal mechanism temperature will never get as high as a conventional unit. The infrared light waves warm objects and keep them warm, making it efficient too.
What Do Heaters Come Equipped With?
Some infrared heaters come equipped with various modes that protect your appliance and your circuit from overloading the system. Most infrared heaters average about 12 amps of power. AirnMore's Comfort Deluxe model comes with a conservative mode that only pulls about 9amps. Therefore, tripping your circuit is less likely with a feature like this. In smaller homes or even in RVs this is a helpful feature.
To answer the question are infrared heaters safe, in short, the answer is YES.
While infrared heaters are safe, as with any electrical appliance, taking precautions while using an infrared heater is essential. While electric heaters allow for mobility of the heater from room to room, it's important that you run through this safety check each time you use the heater.
Safety Check
Keep the area clear.
Do no leave flammable objects next or on top of the heater (i.e. clothing, drapery, power cords)
Make sure the power cord is protected.
One of the leading causes of house fires is due to damaged power cables. Taking care of the cord is imperative, be mindful of wearing cords and stressing the cord by stretching it too far out. Also, be sure to never plug your heater into an extension cord or power strip.
Only use a grounded outlet.
Large heaters can use a lot of electricity, especially when on high. Check your electric box to ensure that you aren't overloading the grid, as previously discussed.
Test your smoke alarms.
For added precaution, make sure your smoke alarms are working properly. Test them periodically, it can save lives.
Are Infrared Heaters Safe To Leave Unattended?
By following the above recommendations, in addition to buying a model with safety features, a new infrared heater is safe to keep on for long periods of time. A model that has added protection features in the case the heater falls over or overheats can help ensure another layer of safety. By having an automatic shutoff, a timer, and an adjustable thermostat you can help regulate your heater efficiently and safely. In addition, be sure that your heater has a certification by one of the three major trusted testing organizations (such as Underwriters Laboratory-UL). This ensures that your unit meets safety standards.
Are Infrared Heaters Safe To Leave On Overnight?
Another common question we have heard, are infrared heaters safe to leave on overnight? As with the above question, it is safe to leave on for long unsupervised periods of time. By taking all the precautions and regularly checking on your heater you can rest assure having an infrared space heater is a great option for your home.
The key to safety here is knowing your product and what it offers. The orange-red glow of the hot coils may look scary, but if your model is encased in a cool to touch housing you are safe. This casing allows for children and pets to avoid coming in contact with the coils. Our EdenPure Infrared Heater options are equipped with this feature and do not have any exposed heating elements. Tip over protection is also an added safety feature.
AirnMore offers a variety of infrared heater options. We welcome you to further review the benefits of this heat source. We have over 20+ years of expertise in the heating industry. AirnMore offers sales, service and parts, and we pride ourselves in offering a customer service support system to all of our clients. Purchase your infrared heater today, and stay warm this winter!