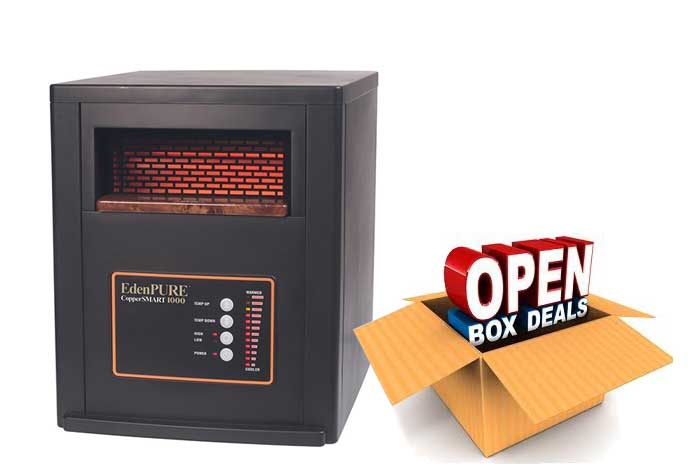 Refurbished Coppersmart 1000 Heaters
---
End of Winter Sales – Call Paul at 1-800-707-8725 for Open-Box Specials that he currently has available. Great Deals & Great Savings
---
Service Center Specials!
Better Living with Air & More is proud to announce that it currently has a limited supply of Open box or refurbished Coppersmart 1000 heaters. Please note: these units may have minor scratches and other blemishes on the outside of the unit but have been fully restored and are fully functional.
Call for Availability: 1-800-707-8725
How to Purchase a Refurbished CopperSmart 1000
To inquire or purchase one of these heaters, please call Paul at 800-707-8725. Paul has been fixing and restoring EdenPure heaters for over 10 years. He uses original parts that meet or exceed OEM specifications.
Prefer purchasing a new EdenPURE Coppersmart 1000? You can purchase a new CopperSmart 1000 on our portable heaters page on airnmore.com or by clicking here.
To purchase parts for your existing CopperSmart 1000, click here.
About the EdenPURE CopperSmart 1000
The CopperSMART 1000 by EdenPURE ® is a portable area heater with a Copper PTC heating element at its core. This supplemental heat source is designed as a dependable, resilient and effective method of heating a room in your home, apartment or office. The heater is very safe and easy to use. With over 4.5 sq. feet of copper surface area, the EdenPURE CopperSMART 1000 ever lasting Copper PTC heating element successfully provides permeating warmth that will not dry out moisture or provide a reduction of oxygen. It has several heat settings enabling it to be flexible in any room of your home.
About Better Living with Air & More
Better Living with Air & More, located in Holmes, New York, is an independently owned EdenPure authorized sales, service and parts seller. Paul, the owner of Better Living with Air & More, has over 20 years of electrical equipment and over 10 years of experience working with EdenPURE heater products. Our company offers the purchase of EdenPURE parts that meet or exceed OEM specifications. Visit our Part finder page to find accurate display of parts available for your heater model. And don't forget to check your heater every few months to ensure the filter is clean. Thank you for visiting airnmore.com! Like us on facebook.