Heating Element Bulb Kit, set of 3, for compatible heaters seen above. Please verify that this element bulb kit is compatible with your particular EdenPURE heater.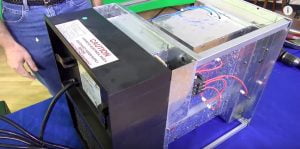 For help installing this Heating Element Bulb Kit in your EdenPURE Gen3, visit our video on YouTube, which visually demonstrates the process of replacing the Heating Elements within the heater.
Better Living with Air and More is an authorized EdenPURE sales, service and parts seller. Please review our Return & Refund Policy before ordering. If you have any questions about the Heating Element Bulb Kit, Set of 3, please call Customer Service at 800.707.8725 or email info@airnmore.com.
Ask to speak with Paul, who has over 20 years of experience working with electrical and electronic equipment, including over 10 years of direct expertise working with EdenPURE and other consumer household products. Learn more about our Heater Repair services.