AirNmore® Comfort Buddy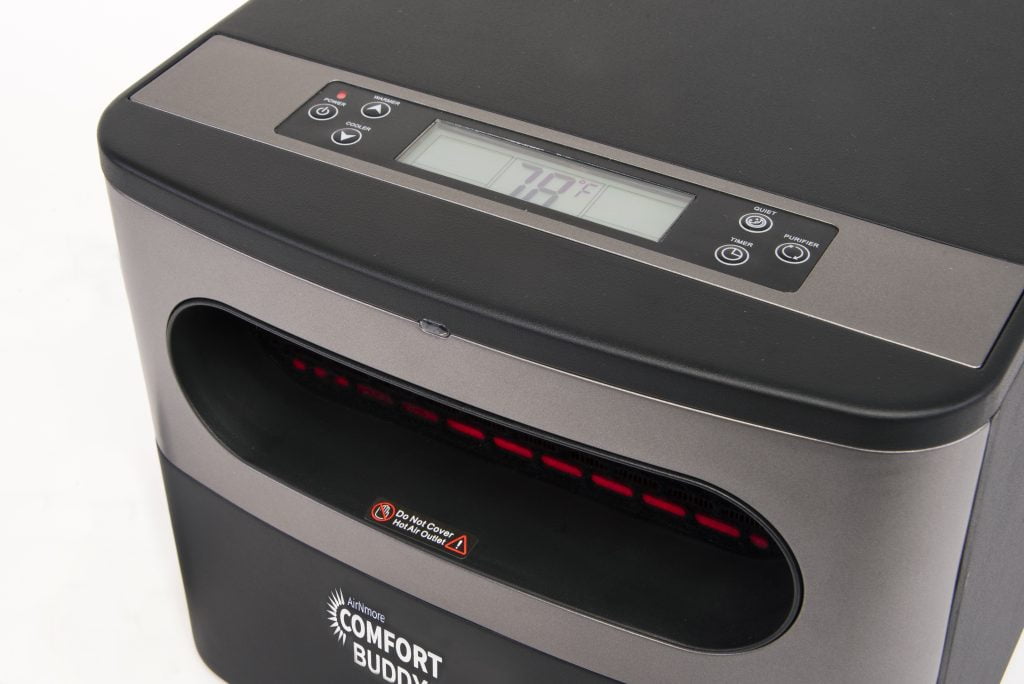 Introducing the Comfort Buddy Heater, the ultimate four season solution for your home's heating and air purification needs. This innovative product features a PTC heating element for efficient and reliable heating during the colder months, as well as the option to add a HEPA filter and PCO air purifier for superior air purification all year round.
The addition of a HEPA filter ensures that the air in your home is free from harmful particles such as dust, pollen, and pet dander. The PCO air purifier, which utilizes TIO2 technology, takes air purification to the next level by creating free radicals that break down and neutralize harmful bacteria and viruses.
The benefits of this advanced air purification system are numerous. Not only will it improve the air quality in your home, but it can also help reduce the risk of respiratory issues and allergies. The free radicals created by the TIO2 technology also have the added benefit of neutralizing odors, leaving your home smelling fresh and clean.
The Comfort Buddy Heater also features a digital thermostat and display for easy temperature control, as well as scratch-resistant feet that hold it securely in place. For added convenience, you even have the option to add wheels to make moving the heater from room to room a breeze.
Don't let the changing seasons catch you off guard. The Comfort Buddy Heater is the perfect solution for all your heating and air purification needs. Order yours today and experience the health benefits of clean air and efficient heating.
2 Year Manufacturer's Warranty
Safe around children and pets
80,000+ Hour Life-Expectancy
Industry leading safety features which includes:
PTC Heating Element with Built-In Overheat Protection
High Limit Safety Sensor
Tip-Over Safety Sensor
Heavy-Duty Grounded AC Cord
Digital Display and Temperature Controls (40-90F, 4-32C)
Includes easy-to-hold remote that uses standard AAA batteries
Quiet Mode (Uses less power in this mode)
12 Hour Start/Stop Timer
"Clean Filter" timer (Unit will remind user to clean the filter approximately every 720 hours)
Lifetime Washable Filter
Heats up to 1000 square feet
Contains built-in recessed handles for easy relocation
Air-Purification Upgrade Kit available that turns this into a 3-in-1 units which can be uses all year long
Compact Design
Contains built-in recessed handles for easy relocation
Caster Upgrade Kit available
Warranty Registration