Austin Air Bedroom Machine Air Purifier
$995.00
The Austin Air Bedroom Machine® is designed to help those who suffer from various sleep-related problems. The results of two separate clinical trials show this unit to be highly effective at removing dangerous airborne pollutants from the home. Keep the air in your bedroom free from pollution and get the good night's sleep you deserve.
Additional information
| | |
| --- | --- |
| Color | Black, Sandstone, White, Midnight Blue |
Who should consider The Bedroom Machine® by Austin Air?
Those who have difficulty sleeping or have poor quality sleep
Individuals that suffer from COPD, allergy and asthma attacks at night
Anyone looking to improve their overall health and wellbeing
Health Benefits
Peaceful, uninterrupted, high quality sleep
Reduces snoring
Lessens night time allergies and asthma attacks
Strengthened immune system
Eases coughing, wheezing and sneezing
Reduces dry mouth and runny nose
Why is The Bedroom Machine® by Austin Air the best choice for me?
Our most comprehensive air purifier with a 5th stage of filtration
Developed to improve sleep
Effectively filters sub-micron particles, gases, odors and VOCs
Keeps your bedroom fresh and clean
The Austin Air Bedroom Machine® was used in clinical trials at the University of John Hopkins to reduce Nitrogen Dioxide levels in the homes of local residents. Nitrogen Dioxide (NO2) is a gas often present in homes where there are gas stoves. High levels of NO2 are particularly dangerous for people with COPD. The gas can dramatically increase symptoms of coughing, wheezing and chest tightness.
The results were dramatics. NO2 dropped in the kitchen by 27% and continued to stay low for the length of the study. Within a week NO2 levels in the bedroom dropped by 23%.
In a second study at John Hopkins, the Bedroom Machine ® was placed in the homes of women, living with a smoker, who were either pregnant or with very young babies. Again the results were impressive. It was clinically proven that running an Austin Air Bedroom Machine® will effectively remove indoor pollutants from the home, including nicotine.
Our Commitment To You;
Backed by the best warranty in the industry, you can take pleasure in knowing you've made a sound investment with your Austin Air cleaner.
30-Day, No-Questions-Asked, Money-Back Guarantee
In the unlikely event that you're not completely satisfied with your Austin Air cleaner, return it within 30-days, no-questions-asked.
5-Year Mechanical Warranty
Your Austin Air cleaner is warranted to be free from defects in material and workmanship for a period of 5-years from the date of purchase; provided your Austin air purifier was operated under normal residential use and that you have completed and returned your warranty registration to Austin Air Systems.
5-Year Pro-rated Filter Warranty
Austin Air offers a 5-year pro-rated filter warranty, by far the most comprehensive in the industry. No more costly filter replacements every few months or years. Austin Air filters are designed to last for an unprecedented 5-years, under normal residential use.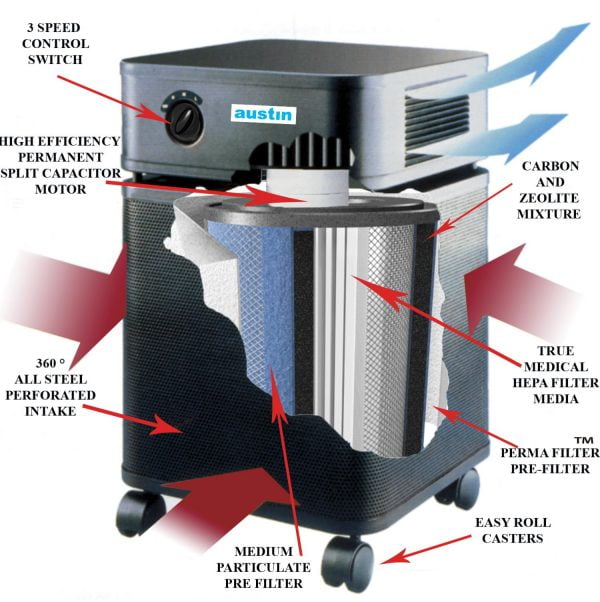 The Bedroom Machine® addresses the broadest spectrum of air cleaning by removing sub-micron particles including allergens and asthma irritants, noxious gases, odors and chemicals. Austin Air's 360-degree intake system draws air into all sides of the Bedroom Machine®, passing it through a comprehensive 5 stages of filtration.
The result? More clean air delivered faster and more efficiently than any other air purifier on the market.
Unit Specifications 
Dimensions: 14.5″L x 14.5″W x 23″H
Weight: 47 lbs.
360° Perforated steel intake housing
Baked on powder coat paint finish
3 speed centrifugal Fan
High efficiency motor rated for continuous use at high RPM
CSA approved
Filter Specifications 
STAGE 1 – Large Particle Pre-filter. Removes particles easily seen by the naked eye (e.g. dust, hair and pet dander)
STAGE 2 – Medium Particle Pre-filter. Removes small to medium size particles (e.g. molds, spores and pollen)
STAGE 3 – Over 780 cubic inches of Activated Carbon and Zeolite Removes chemicals, gases and odors
STAGE 4 – 60 sq. ft. of True Medical Grade HEPA. Removes 99.97% of all particles larger than 0.3 microns and 95% of all particles larger than 0.1 microns.
STAGE 5 – Military Grade HEGA Carbon Cloth. HEGA (High Efficiency Gas Arrestance), providing an extremely large surface area for adsorption of chemicals, gases, viruses and bacteria
Replacement filter for the Bedroom Machine® by Austin Air.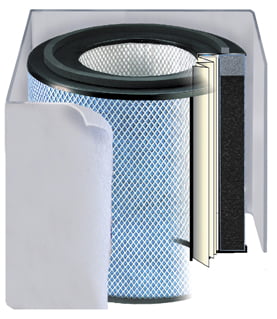 All replacement filters have up to a 5 year life expectancy.
The Bedroom Machine® by Austin Air Filter is our most comprehensive filter which features a 5th stage of filtration designed to give you and your family better quality sleep.This filter is comprised of a true medical grade HEPA (High Efficiency Particulate Arresting) filter surrounded by a blend of carbon and zeolite mixture as well our HEGA (High Efficiency Gas Arrestance) military carbon cloth. The HEGA cloth provides an extremely large surface area for the adsorption of chemicals and gasses. The carbon and zeolite blend removes chemicals gasses and odors. The HEPA filters 99.97% of all particles down to 0.3 microns in size.